What we do:
iCandi Apps ® is passionate about designing and producing magical apps that enable you to interpret the universe in a whole new way. Night Sky™ is designed for all to use, from avid explorers, to those who just want a magical experience with the Night Sky™ from the comfort of their own garden!
A bit of history: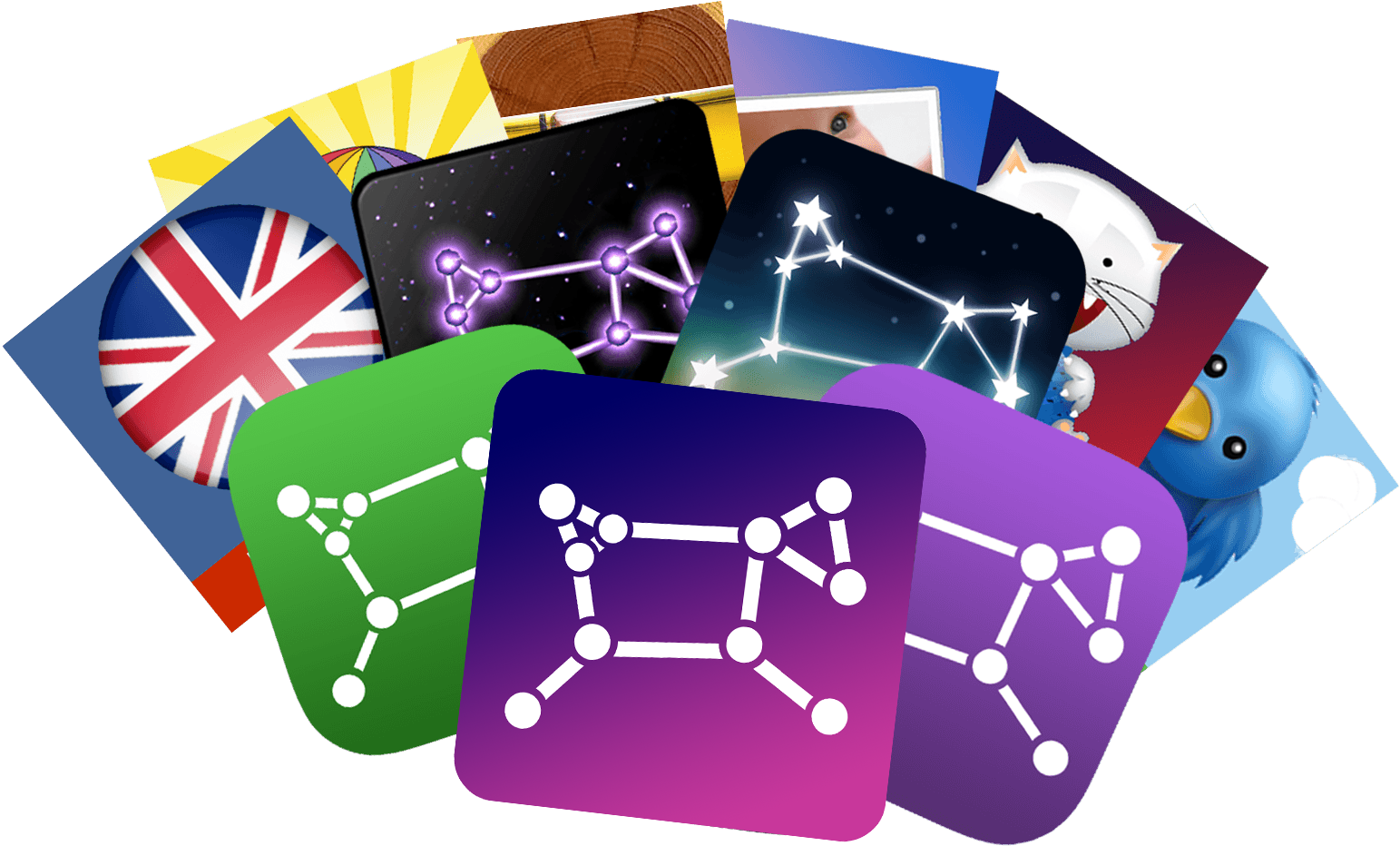 Taking inspiration from Steve Jobs' Apple Keynote presentation, showcasing the 'App Store' and with the realisation that this creation could, and most probably would, revolutionise the way we live our lives, 2008 saw the creation of iCandi Apps ® by its founder Andy Weekes. With a history of website development and computer programming, finishing his day teaching Music to 11-18 year olds, Andy came home to work meticulously on developing his first idea. Within a week 'iPet Attention' was created.
After the submission and successful publication of 'iPet Attention' came the creation of camera utilised apps such as 'iPet Photo' and 'iBaby Photo'. Andy's confidence continued to grow in his capacity to create apps that people wanted to use and it was at this point that iCandi Apps ® decided to venture into the ever-expanding domain of Social Networking.
After many sleepless nights, came 'Twitterena' (later renamed 'Tweeterena'), peaking at no.2 in the US Social Networking category, only to be kept from the no.1 spot by Twitter's own Social Networking app 'Tweetie'. Various other apps were created whilst 'Tweeterena' enjoyed success, they too gaining coveted top ten spots in countries around the world.
Andy's passion to create apps continued, and on the 1st November 2011 Night Sky™ was released into the App Store. As Night Sky became instantly popular, Andy dedicated the majority of his time to creating developing the app and expanded his team. The teams vision of creating something both beautiful and informative, yet simple and easy to use was rewarded when Night Sky™ sky-rocketed to the top of the paid reference app charts across the world, including the US, Canada, and the UK. Receiving both critical acclaim and a wealth of five star reviews by users worldwide, Night Sky™ not only sat at the number one spot of the Reference charts for lengthy periods of time, but at the end of 2012 was recognised as the number 1 paid Reference app of the entire year. Night Sky™ was also featured by Apple as 'Best of 2012' (and for multiple years after that!)
Andy's drive didn't stop there and he pushed iCandi Apps ® forward to release a second edition called Night Sky™ 2. This saw similar success as its predecessor by hitting number 1 spots worldwide. Night Sky™ 2 also had the honour of being installed onto every Apple Retail iPad device worldwide, so customers could experience one of the most magical apps on the iPad.
Constantly Updated:
Over the years Night Sky has been updated constantly, leading to its now 10th major release. Night Sky X has developed massively from the apps origins, and the 10 years of passion from the entire team is visible in the latest iteration.
Night Sky is now the most popular astronomy app in the world with over 40 million users and an average rating of 4.7 / 5, from over 800000 reviews worldwide! It's clear users are delighted with the experience.
Night Sky has also received multiple industry awards, including multiple Webby Awards in 2018, 2019, 2020 and 2021, and multiple Lovie Awards in 2019 and 2020. Accolades included winner of "Best Use of AR", winner of "Best User Interface", winner of "Best User Experience", winner of "Technical Achievement", and winner in the "Education and Reference" category!
Andy's Passion: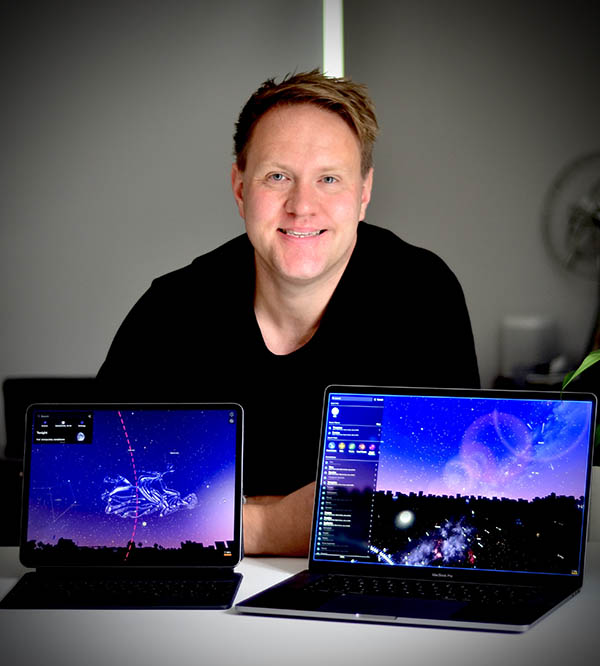 Andy says: "Due to my teaching career, I was already an Apple Mac enthusiast as they were used heavily in Music Technology. In 2008 one of my biggest idols, Steve Jobs, announced the iPhone App Store, something I had been anticipating for over a year before launch. I was instantly inspired from his App Store and development kit presentation, and immediately downloaded the free development software from the Apple website. I then played with it, learned a lot in my spare time, and it was a hobby that I thoroughly enjoyed.
Perseverance is the key to success. I made 33 apps before Night Sky™, and was it not for this perseverance, learning along the way, I would never have seen the success Night Sky™ brought me. The original version of Night Sky™ was created in my tiny bedroom in my parents house. It just shows how accessible success is today, all you need is a computer and an Internet connection, but more importantly, a passion.
Some people say it was luck, no it wasn't. I could have stopped making apps at my 10th app, I persevered. I would have made 100 apps if Night Sky™ hadn't have come along and blew me away.
If you are passionate about something keep at it, keep pushing forward, and never allow set backs to get in the way, with a true passion this will just happen, quite naturally."
Andy's personal success has been recognised by De Montfort University in Leicester and Birmingham City University. In 2013 Andy was awarded Alumni of the Year in Enterprise and Innovation by De Montfort University. In 2014 Andy received the same award from Birmingham City University. An unprecedented achievement, being awarded the same Alumni of the Year award by two separate universities in two consecutive years.
Attention to Detail:
Here at iCandi Apps ® we take attention to detail very seriously. Every aspect of our apps are considered, reconsidered, refined then refined some more, so upon our release candidate build you're getting our very best work.
Andy and his team continue to drive iCandi Apps ® forward. They are dedicated to ensuring Night Sky is the most magical and educational experiences anyone can have on Apple hardware. iCandi Apps ® is creating products that cause people that use them to quite simply, – Wonder no more.